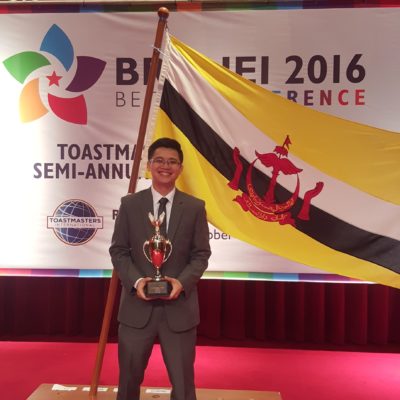 Allen Ang
Champion of District 87 Toastmasters Humorous Speech Contest 2016
I had the first opportunity to work with Stuart back in 2014 for my humorous speech contest. As a Mandarin-educated speaker, telling jokes in English is no easy task. Then, Stuart guided me on the foundation and technicality of a good humorous speech.
In 2016, I decided to give the Humorous Speech Contest another shot and Stuart agreed to mentor me for the second time. This time, Stuart focused on my mentality rather than the script itself and focused on delivering a valuable message to my audience. On 30th October 2016, I finally won the accolade of being District 87 Humorous Speech Champion and became the 4th District Champion from Brunei since 1999.
For anyone who is keen to build a strong foundation as a contest speaker, I strongly recommend Stuart to be your mentor. Throughout the times we work together, he has guided me, a young non-English public speaker, to be someone who embraces the adrenaline rush from contesting. These valuable experiences have brought me a step closer to achieving my dream – an international keynote speaker. Thank you Stuart for your time and commitment mentoring me!

I have known Stuart Lee for the past two years in Toastmasters as my mentor and a good friend. He is witty, humorous and smart. He has constantly bolstered my progress in Toastmasters and mentored my achievement of District 87 Championship for Speech Evaluation in 2016. His significant contributions in Toastmasters speak volumes about his tenacity, determination and selfless attitude. When I joined Toastmasters, Stuart gave me a vision in the club. He advised me to take each project seriously and excel par expectations. He fostered my journey through the Competent Communication speech manual. His motivation has been highly instrumental in acing speech contests. These are quantitative accomplishments. Qualitatively, I am a much better version of myself as a public speaker now, thanks to Stuart. He is well-known for going out of his way to help others shine.
Stuart has an amazing ability to challenge you to go beyond your limits. He diligently works out a highly structured strategy to help you achieve your goal. His logical reasoning and analytical skills are exceptional. I am awed at his ability to break a speech down into its nitty-gritty and offer you a quick 360-degree analysis of its worth. Moreover, he has the superior skill to tailor recommendations to suit the individual's needs. If you need a comprehensive, direct, no-nonsense feedback on your work, Stuart is the person to go to.
I have the best of my regards and wishes for my mentor, Stuart in his mission of emboldening people to develop their skillsets. Mentors like him don't feed you fish; they instead teach you how to fish. Those lessons stay for life.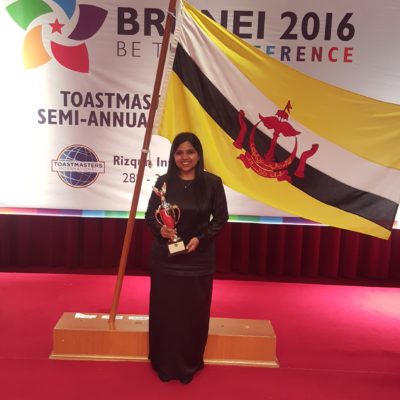 Dr Pooja Shivanand
UBD Lecturer
Champion of District 87 Toastmasters Evaluation Contest 2016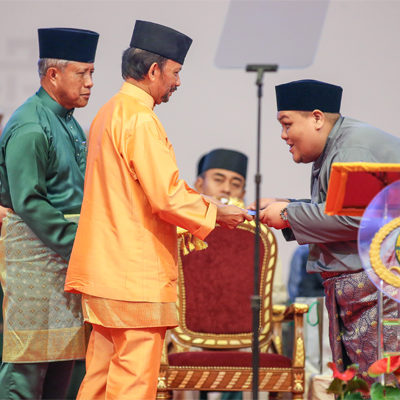 Ak Ahmad Akram bin Pg Hj Md Idrus
2nd Place TAIB Entrepreneurship Program Competition
Owner of Steamy Ridez and Cleaning Services
Saya adalah salah seorang peserta usahawan TAIB yang telah mengambil kursus keusahawaan yang dianjurkan oleh Startup Hub di iCenter, Anggerek Desa.
Dalam program ini kami belajar berbagai-bagai kaedah keusahawaan termasuk program pitching yang dilatihkan oleh Tuan Stuart. Semasa program ini, beliau bukan sahaja memantapkan prestasi kami sebagai pengusaha namun beliau juga menaikkan tahap keyakinan diri kami untuk membagikan pitch kepada khalayak ramai.
Dengan kursus yang hampir memakan masa tiga hari itu, perubahan yang ketara dapat dilihat dari setiap peserta termasuk diri saya sendiri. Beliau banyak membantu saya dalam usaha menjadi seorang usahawan yang berjaya dan beliau juga mengajar saya tentang kepentingan penampilan dalam sesuatu majlis.
Alhamdulillah dengan ilmu,dorongan dan keperihatian yang beliau berikan, saya berjaya memenangi tempat kedua dalam pertandingan 'TAIB Entrepreneurs Pitching Competition'. Saya mungkin tidak akan berada di mana saya sekarang tanpa ilmu yang di ajarkan oleh beliau.
Thank you, Stuart, for being our mentor and also a family to us.
I have known Mr. Stuart Lee for almost 3 years now and I'm astounded by his ability and skills to work within professional and informal settings. Stuart is disciplined and to-the-point but most of all genuine and authentic when helping others grow in today's challenging world.
Stuart Lee is a man with numerous unique talents and skills. He is a natural leader, a person with influence and a good friend. As my mentor, his valuable advice and evaluations provide a vast perspective, possibilities, and ideas. With the skills that he has, the knowledge that he possesses, his vast business consultation and priceless experience allows him to train individuals and push them beyond their boundary and limits.
He is a person who lays out a proper foundation and domain to those who want to excel their skills within the realm of public speaking and leadership. I have seen him train champions for regional public speaking contests, moulding individual into professional, and showcasing a great example within our community.
People look up to him, inspired by his will and courage to lead other towards achieving success and greatness. In conclusion, Mr. Stuart Lee has proven himself as a person who perseveres in the face of difficulties and is a valuable example that should be followed by our current generation including students and youth around the country as future leaders of this nation.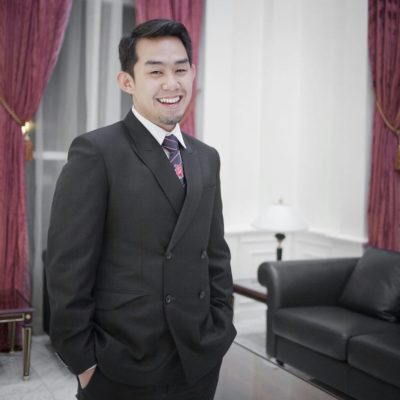 Muhammad Nuriskandar Hasnan
President of UBD Guild of Graduates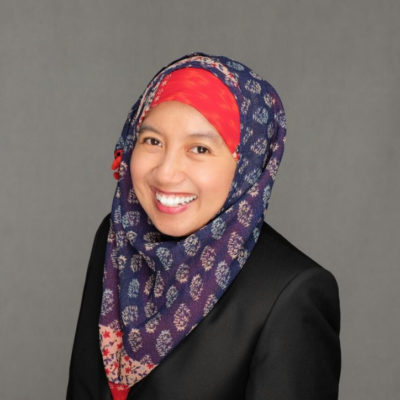 Dayang Sri Yani Hepnie
Science and Mathematics Research
Programme Coordinator
Head of Gavel Club
Paduka Seri Begawan Sultan Science College

I first met Stuart Lee more than a decade ago, when I attended my first Brunei Speakers' Club meeting. I was engaged and at awe with the smoothness of his delivery of an impromptu speech. When I joined as a member and was asked who I would like to choose to be my mentor, the answer was immediate and obvious! Though there were many accomplished and confident speakers in the club, Stuart stood out to me as a speaker with conviction, clarity and passion with wit to boot.
Right from the beginning, he was observant, sharp and gave his feedback frankly but constructively. He recognized my strength and weaknesses. He would point out what did not work and asked me again and again what was my message. That was how he trained me how to structure my speech. He recognized what kind of speaker I can be best at. By just looking at my written speech he could give suggestions on how to reword my speeches to make it more impactful and clear.
The confidence he instilled in me as a speaker and a leader inspired me to start the first Gavel (for youths between 12-17 years old) club in Brunei in the college that I teach, Maktab Sains Paduka Seri Begawan Sultan where I share the joy of public speaking with the students there. At the same time, still with Stuart's support and feedback I continue to develop myself as Workshop Speaker and Moderator in the Brunei Advanced Speakers' Club.

I highly recommend Stuart to guide you if you are looking to structure your speeches and deliver it to achieve the impact you desire. Be it to inform, to inspire, to persuade, to make people laugh- he has the right formula for the right moment. This would be useful for adult and students alike. You are never too young or old to learn.

I've been in the sales and marketing industry for over 12 years and I thought I knew enough to know what to do in my line of work. But anyhow, my company enrolled me into Stuart's pitching skills class and it truly opened my mind!
I learned a better way to communicate and connect with the audience. Learning to be confident in a room full of people and to command the meeting is not easy but Stuart taught me that and I carry it every day now in my daily life. He comes highly recommended by me! It's never too late to learn new things and to add new skills to your life!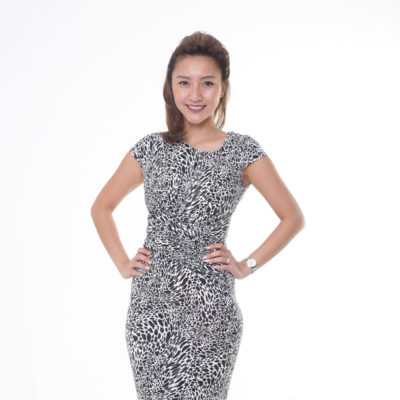 Faith Leong
Business Development Manager
At Mix Media Worx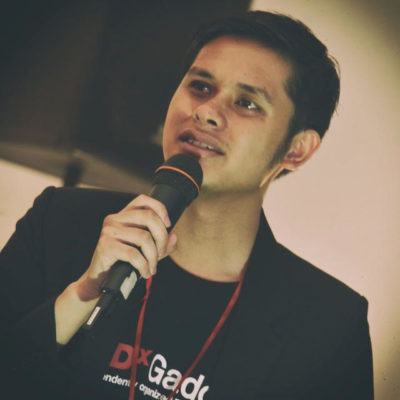 Fadli M Zaini
Founding Partner at TEDxGadong
Stuart is a perfectionist and against-all-odds a public speaker with an impressive story of humble beginnings as a struggling orator in his younger days. As one of the first TEDxGadong speakers, he has not lacked in his standard and continues to display leadership among his professional circle. At the same time, he excels as a coach who can provide self-motivation, public speaking techniques and articulation of ideas. Even in the limited time we had to prepare, he has helped our TEDxGadong 2016 speakers with their presentations in garnering a wonderful, light-hearted reaction from the audience – the laughs, the gasps and the applause – were all too much of a reminder of Stuart's charm in being the easy-going and sincere friend wherever he goes.
Stuart has an amazing skill to train and develop abilities among people, abilities that I myself did not know that I was capable of. In 2016, I was assigned the role of panellist and moderator for two regional level conferences and I was very nervous as I have never done it before. However, with Stuart's guidance and constructive feedback, I was able to successfully complete my task and was even invited again for the same role this year by the same organisers.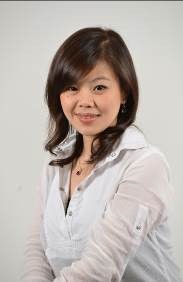 Heidi Farah Rahman
Head of Competition and Consumer Affairs Division
Department of Economic Planning and Development
Prime Minister's Office
Brunei Darussalam